Description
Kojak Selinge is outcome of the

effort between STAR Syringes of U.K & HMD. HMD collaborated with STAR Syringes of U.K., since their technology was innovative, advanced, simple and affordable. It definitely reflects HMD's endeavour to mass-produce 'value for money' products. STAR Syringes own the international patent of the design, which has won the International Millennium Product Design Award of 1999 and the Design Effectiveness Award of 2000 ,the prestigious United Kingdom's Queen's Award and meets ISO 7886-3 & ISO7886-4 Standards for A.D. Syringes.
Components:
Barrels are made of medical grade polypropylene that is nontoxic & compatible with any medications.
Plungers are made of medical grade polypropylene which is non-toxic and compatible with any medications.
Gaskets are made of natural rubber which is chemically inert and compatible with medication for short term contact drug delivery application.
Lock:
Presence of ring & lock mechanism which automatically breaks the plunger, if reuse is attempted.
Needle:
The tip of the needle is having thin wall and 3 facet lancet point. Needle is well siliconized to reduce friction (For smooth penetration & withdrawal).
Precautions:
Before use, check the integrity of the sealing of the pack. Do not push the plunger forward before withdrawing medicament from the vial otherwise plunger will get locked.
PACKING DIMENSION
UNIT PACK: The Kojak Syringes are individually ribbon packed in a double laminated plastic film of Polyester and LDPE
SELF PACK: 0.5ml, 2ml, 5ml-100 units & 10ml-50 units are packed in a printed duplex board box.
SPECIFICATIONS :
The "KOJAK" non-reusable syringe conforms to the following specifications:
0.5 ml – ISO 7886-3
2ml, 3ml, 5ml, 10ml & 20ml – ISO 7886-4
* All units are in mm.
FOR CURATIVE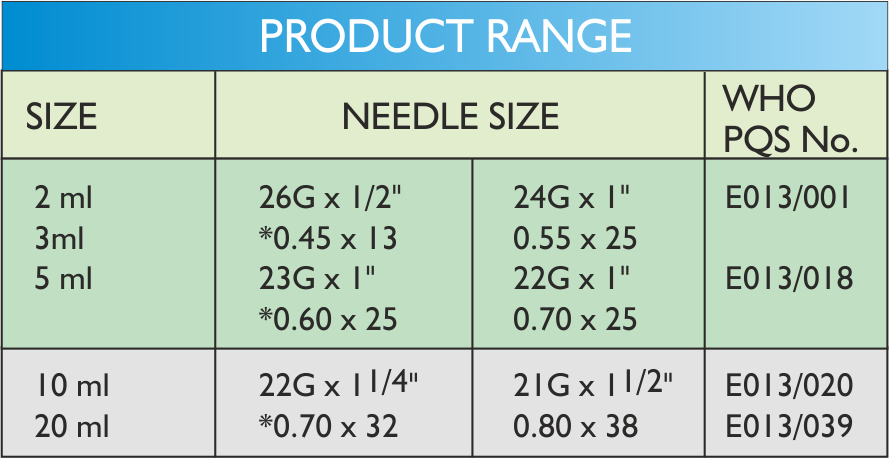 Mfg. as per ISO7886-4
* All unitsare in mm.
Auto Disable Syringe with/without – Fixed/Detachable Needle.
FOR IMMUNIZATION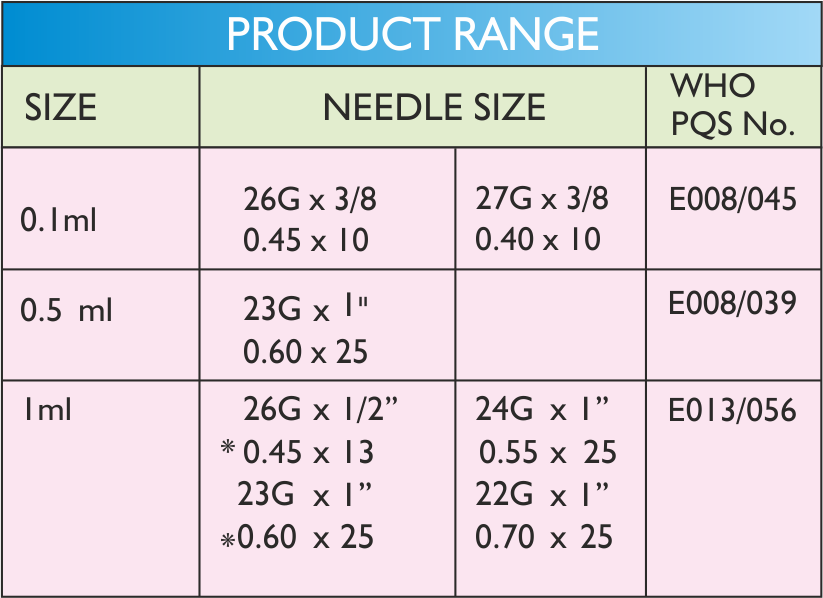 Mfg. as per ISO7886-3
* All units are in mm
Auto Disable Syringe with Fixed Needle