HMD through its CSR Wing, Safe Point India remains committed to continue contributing towards the cause of educating uninformed public on the dangers of receiving unsafe injections. Syringe re-use is the main source of cross-infection in the developing world, infecting innocent people with blood-borne diseases such as HIV and Hepatitis B and C.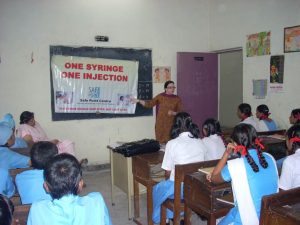 WHO Estimates:- 
Worldwide, each year, overuse of injections and unsafe injection practices cause an estimated –
8 to 16 million Hepatitis B virus infections
3 to 4.7 million Hepatitis C virus infections
80,000 to 1,16,000 HIV infections
More than 90% of these infections occur in developing countries
The above statistics of WHO tells that a lot need to be done in developing nations to protect people from overusing injections and unsafe injection practices.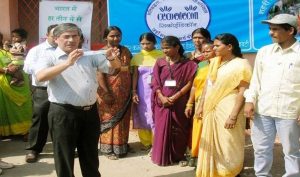 About Safe Point India:
Safe Point India was set up in the year 2006 in New Delhi with the objective of enhancing awareness about the injection, safety, health and hygiene by running public awareness campaigns targeting both health care workers i.e. nursing professionals, doctors and other paramedical staff along with the general public.
Since 2006, Safe Point India in Delhi has successfully conducted several Safe Injection Awareness Programmes covering students in prestigious schools like – Guru Harkrishan Public School, Sarvodaya Co-Education Vidyalaya and D.E.S.U. Middle School.
Similarly, CME programmes on Safe Injection Practices and proper use of AD Syringes were conducted in leading hospitals of Delhi such as – All India Institute of Medical Sciences, Moolchand Medical Hospital, Babu Jag Jiven Ram Hospital, St.Stephen's Hospital, Lady Hardinge Medical Hospital, G.B.Pant Hospital, Safdurjung Hospital and Ram Manohar Lohiya Hospital covering both Doctors and paramedical staff of the respective hospitals.
Apart from this, there is regular participation in Perfect Health Mela organized by Heart Care Foundation of India, which is visited daily by about 3.5 Lac visitors during the Perfect Health Mela days.
Rajiv Nath and Pardeep Kumar Sareen are the Project Head and Trustee for Safe Point India who have taken several initiatives to establish a collaborative framework with different departments of the govt. and media to bring to their attention the issues troubling the industry and attract investments into India.
Atul Sharma serves as the Project Coordinator for Safe Point India and provides assistance in various projects like injection safety for para-medical staff and general public. He is a hardcore professional with more than 10 years of relevant experience.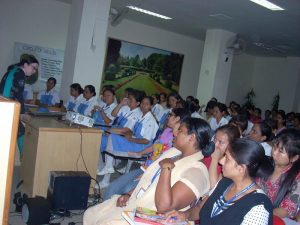 Injection Safety Tips:
Make sure that the new syringe is opened in front of you
The syringe is destroyed after use
And it is disposed in a safe manner
Safe Point India also conducted seminar on safe injection practices programs in various cities of India (which was attended by Health department officials, doctors, paramedical staff, NGO's, officials from NACO) such as : Guwahati, Patna, Raipur, Ahmedabad, Ranchi, Bangalore, Bhopal, Hyderabad (safe injection programme conducted in collaboration with PATH), Chandigarh (programme attended by Ex-DME Punjab Dr.Jassi), Jaipur (Safe injection programme conducted in collaboration with Jaipur Chemist Association), Nagpur (attended by Prominent leader Mr.Nitin Gadkari), Bombay (attended by prominent leader Mr.Kirit Somaiya), Kerala (attended by Minister of Sports & Head of Kerala AIDS Control Society) and Indore (organized painting competition for children in different schools).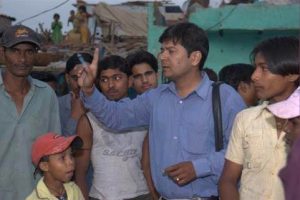 Safe Point India Message to General Public:
Listen to your doctor on why / why not an injection is required
Do not insist on injection when it can be compensated with an alternative medication [Tablet/Syrup/others]
Be vigilant while getting the injection
Be careful of Quacks / Fake Doctors
Apart from this, there has been regular participation in exhibition in different parts of the country by Safe Point India. Injection Safety Week is organized in November in various cities of India. In Injection Safety Week in Mumbai daily commuters were educated at Chhatterpati Shivaji Railway Station.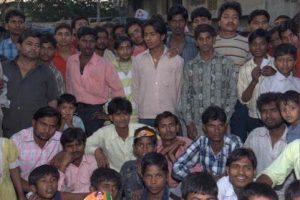 Safe Point India Smart Injection Programme:
Adequate quantity of syringes available
Waste management planning and resources
Training for health care workers
Public information on injection safety