Kojak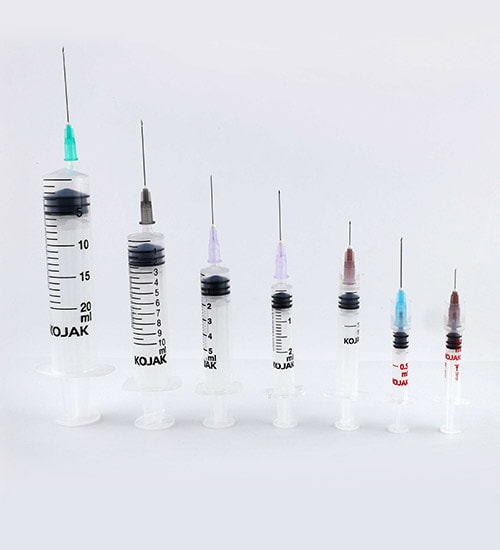 HMD's Kojak auto-disable syringes are self-locking, sterile, non-toxic, and non-pyrogenic medical disposables made of high-quality polypropylene that comes in a variety of options for different applications. We incorporate a ring and break mechanism, which automatically breaks the plunger if a reuse of syringe is attempted. These state-of-the-art
hypodermic syringes
were designed in partnership with the world-renowned
STAR Syringes
, UK. Our auto-disable syringe is an affordable and reliable option that ensures the syringe is not used more than once, thereby reducing the risk of cross-contamination and infection. The auto-disable mechanism breaks the plunger upon its first use, making repeated use impossible. Our hypodermic syringes are easy to use and thus do not require any prior instruction, explanation, special training. Also, our syringes come pre-sterilised, eliminating the need for further sterilisation. Instruction for use are elaborated on product packaging
Features of Kojak Auto-Disable Syringes:
Thin-walled needles with 3 facet lancet point for smooth and minimal pain penetration and withdrawal
Chemically inert gaskets suitable for short-term contact delivery application
Polypropylene syringes with markings for proper measurements
Ring and break mechanism to automatically break the plunger on its first use
fixed needle mechm for a secure fit and minimal leakage
Luer slip mechanism for administering thinner solutions
Available for both immunization and curative segments
Benefits of our Kojak Auto-Disable Syringes:
Mitigates the risk of cross-contamination and blood borne illnesses
The fixed needle ensures that the syringe can't be used again.
Minimises healthcare costs at macro-level
Available in detachable and fixed needle variants
It can also be used for mixing drugs and medications
Available for both curative and immunisation use
Capacity ranges from 0.1 ml to 20ml
     "Protecting those who protect us"
Luer-Lok tip

Our Luer-Lok tip is generally used for injections requiring a secure connection of the syringe to another device.

Luer slip tip

Our luer slip tip provides a friction-fit connection that requires you to push and twist the syringe tip into the needle hub.
Key Highlights
Permits Aspiration (critical for subcutaneous Immunization Injections)
Can be used for reconstitution and mixing of drugs.
Available with any gauge of needle favored by the user.
Available in fixed as well as detachable needle design options.
Affordable
FOR CURATIVE
Size
Needle size
Who PQS No.
2ml
3ml
5ml
26G x 1/2"
*0.45 x 13
23G x 1"
*0.60 x 25
24G x 1″
0.55 x 25
22G x 1"
0.70 x 25
E013/001

E013/018

10ml
20ml
22G x 1 1/4"
*0.70 x 32
21G x 1 1/2"
0.80 x 38
E013/020
E013/39
FOR IMMUNIZATION
Size
Needle size
Who PQS No.
0.1ml
26G x 3/8
0.45 x 1"
27G x 3/8
0.40 x 10
E008/045
0.5ml
23G x 1"
0.60 x 25
E008/039
1ml
26G x 1/2"
*0.45 x 13
23G x 1"
*0.60 x 25
24G x 1"
0.55 x 25
22G x 1"
0.70 x 25
E013/056