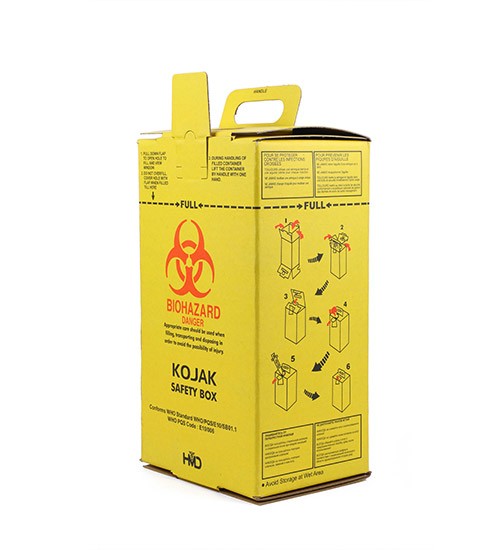 HMD – Kojak Safety Box
Given the rising cases of NSIs (Needle Stick Injuries), the importance of the safe disposal of medical sharps cannot be overstated. Medical staffs across the country fall victim to accidental needle pricks every year, leading to the transmission of potentially fatal blood-borne diseases.
To combat this growing problem, we at HMD have designed a dedicated safety box solely to dispose of medical sharps like needles and surgical blades. Using this, healthcare workers dispose of medical sharps safely, leaving no room for workers to accidentally come in contact with the sharps.
The safety box comes with multi-lingual instructions and illustrations, requiring no additional training on the part of  health care workers.
Here are some of the salient features:
It can be assembled easily without any training

Comes with multi-lingual instructions and illustrations on the box

Handle on the top for easier to reduce spillage and easier handling

Aligned with country-specific waste disposal guidelines

Made of high-quality white   duplex Kraft Board

Available in 5 and 10-litre capacities

WHO standard WHO/PQS/E10/SB01.1

Fit for both syringes with and without needles
Apart from all these features, our safety box also has superior board density and thickness, along with being tamper-proof, water-resistant, temperature resistant, and resistant to piercing. 
Key Highlights
The direction of use on the box in Multilingual Text as well as in Pictorial Directions with respect to Sequenced Code on Flaps.
Handle in the center avoids spillage during transportation.
For Disposal: As per country-specific waste disposal national policy guidelines.
Seal edges with Adhesive Surgical Tape in case the box is intended to be used to collect Surgical Blades.
Available in 5 liters and 10 liters.
Capacity
S.No.
Size of Syringe
With Needle No. of Syringes without Agitation
Without Needle No. of Syringes without Agitation
Without Needle No. of Syringes with Agitation
Without Needle No. of Syringes with Agitation
Box Size
5 ltr
10 ltr
5 ltr
10 ltr
5 ltr
10 ltr
5 ltr
10 ltr
1.
0.5ml/2ml
100
200
275
630
150
275
295
650
2.
5ml
65
120
140
320
120
190
170
360
FEATURES/BENEFITS
Easy Assembly without training.
Direction of use on the box in multilingual text as well as pictorial directions and sequenced code on flaps.
Handle in the center avoids spillage/tilted Box during transportation.
For Disposal -As per country specific waste disposal national policy guidelines.
Seal edges with Adhesive Surgical Tape in case Box is intended to be used to collect Surgical Blades.
PQS No. E010/006**
Conforms to WHO standard WHO/PQS/E I O/SBO 1.1**