Kojak Safety Box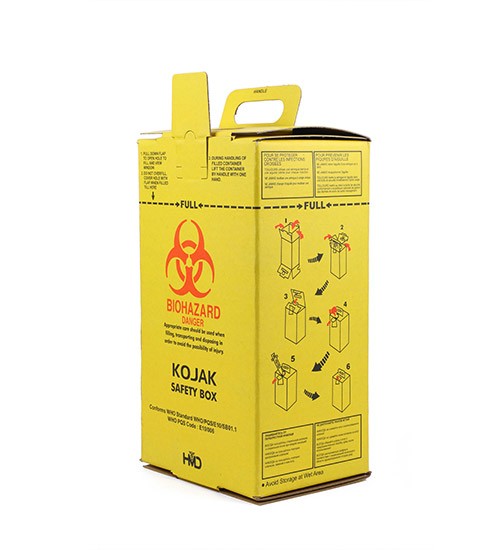 HMD's Kojak Safety Boxes have been considerably designed for the safe disposal of medical sharps and needles, thus avoiding any fatal injuries, if not handled with care.
Key Hignlights
The direction of use on the box in Multilingual Text as well as in Pictorial Directions with respect to Sequenced Code on Flaps.
Handle in the center avoids spillage during transportation.
For Disposal: As per country-specific waste disposal national policy guidelines.
Seal edges with Adhesive Surgical Tape in case the box is intended to be used to collect Surgical Blades.
Available in 5 liters and 10 liters.
Capacity
S.No.
Size of Syringe
With Needle No. of Syringes without Agitation
Without Needle No. of Syringes without Agitation
Without Needle No. of Syringes with Agitation
Without Needle No. of Syringes with Agitation
Box Size
5 ltr
10 ltr
5 ltr
10 ltr
5 ltr
10 ltr
5 ltr
10 ltr
1.
0.5ml/2ml
100
200
275
630
150
275
295
650
2.
5ml
65
120
140
320
120
190
170
360