Dispovan Syringes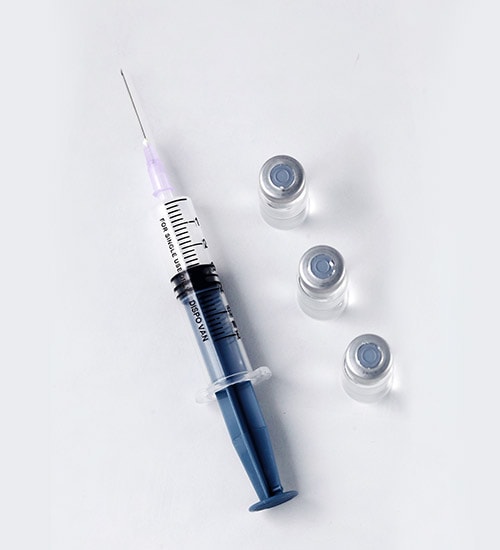 The Dispovan Single-use Hypodermic Syringesare one of the most in-demand single-use syringes in the Indian market. They are manufactured as per IS:10258/ ISO:7886-1.
Luer-Lok tip

Our Luer-Lok tip is generally used for injections requiring a secure connection of the syringe to another device.

Luer slip tip

Our luer slip tip provides a friction-fit connection that requires you to push and twist the syringe tip into the needle hub.
Key Highlights of Dispovan Syringes
3 Piece Syringe
Luer Mount Syringe
Colored Plunger
The use of a special piston makes the Dispovan Single-use syringe even more special.
The inert Piston minimizes chances of leakage over the complete 5 years shelf life of the product.
Dispovan Single-use syringe Product
CAPACITY
TYPE OF NOZZLE
STANDARD NEEDLE
DIMENSIONS
1 ML. * (T.B)
Luer mount/ luer lock
with central nozzle
26G X 1/2"
*0.45 x 13
2 ML. **
Luer mount/ luer lock
with central nozzle
24G X 1"
* 0.55 x 25
22G x 1 1/4"
* 0.70 x 32
23G X 1"
*0.60 x 25
22G x 1 1/2"
*0.70 x 38
23G X 1"
*0.60 x 38
21G x 1"
*0.80 x 25
22G X 1"
*0.70 x 25
21G x 1 1/2"
*0.80 x 38
3ML
Luer mount/ luer lock
with central nozzle
24G X 1"
*0.55 x 25
22G x 1 1/4" *0.70 x 32
23G X 1"
*0.60 x 25
22G x 1 1/2" *0.70 x 38
23G X 1"
*0.60 x 38
21G x 1 "
*0.80 x 25
22G X 1"
*0.70 x 25
21G x 1 1/2"
*0.80 x 38
5ML
Luer mount/ luer lock
with central nozzle
24G X 1"
*0.55 x 25
22G x 1 1/4" *0.70 x 32
23G X 1"
*0.60 x 25
22G x 1 1/2" *0.70 x 38
23G X 1"
*0.60 x 38
21G x 1 "
*0.80 x 25
22G X 1"
*0.70 x 25
21G x 1 1/2"
*0.80 x 38
10ML**
Luer mount
with eccentric
nozzle
Luer Lock
with central
nozzle
22G X 1 1/4"
0.70 x 32
*21G x 1 1/2"
0.80 x 38
22G X 1 1/2"
0.70 x 38
20G x 1 1/2"
0.90 x 38
20ML**
Luer mount
with eccentric
nozzle
Luer Lock
with central
nozzle
22G X 1 1/4"
0.70 x 32
*21G x 1 1/2"
0.80 x 38
22G X 1 1/2"
0.70 x 38
20G x 1 1/2"
0.90 x 38
50ML
Luer mount
with eccentric
nozzle
Luer Lock
with central
nozzle
Without Needle