Description
A range of I.V. Cannula each designed to meet specific application of cannulation.
Product Specification:

2 way/1 way I.V. Cannula with wings
It is provided with low pressure injection valve to facilitate extra medication and to prevent its back flow.
Medicine can be injected by a syringe without needle thereby reducing chances of infection and preventing needle stick injuries. Cost of needle is also saved.
The valve is protected with easy to open Injection Port Cap.
Coloured Injection Port Cap for size identification.
It offers safe and convenient method of atraumatic administration of medicines.
Angled & grooved wings offer easy fixation and prevent shifting & rolling of cannula in the patient's body.
Single use, sterile, non-pyrogenic and nontoxic.
Components:
Wings are made up of nontoxic, medical-grade polypropylene compatible with any medication. The injection port and the receiving end of the wing have a 6% luer taper as per ISO:594.
Incorporates a flash-back chamber in the hub, blood stopper and luer lock cap.
Needle is made from cold rolled stainless steel strip. The tip of the needle has a short bevel 'back' cut point for easy catheterisation and minimal pain and risk of perforation.
Precautions: Before use, check the integrity of the sealing.
Warning: Do not use if the pack is previously opened or damaged.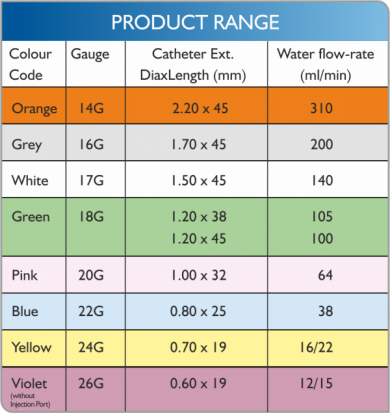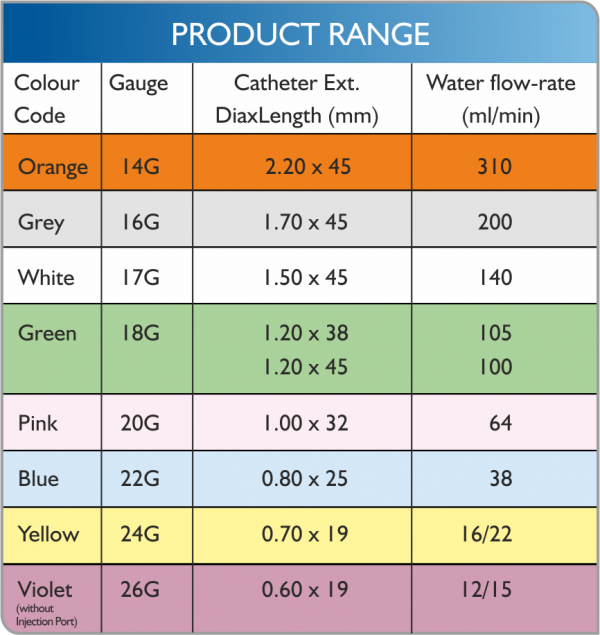 * Conform to : ISO 10555-1 & ISO 10555-5 standard.
* For neonates and children, in 24G & 26G I.V.Cannula, a notch has been provided in the needle for "INSTANT FLSH BK" (instant flashback visualization) at the tip of the catheter. It assists in achieving successful Cannulation in 1st attempt of vein entry.