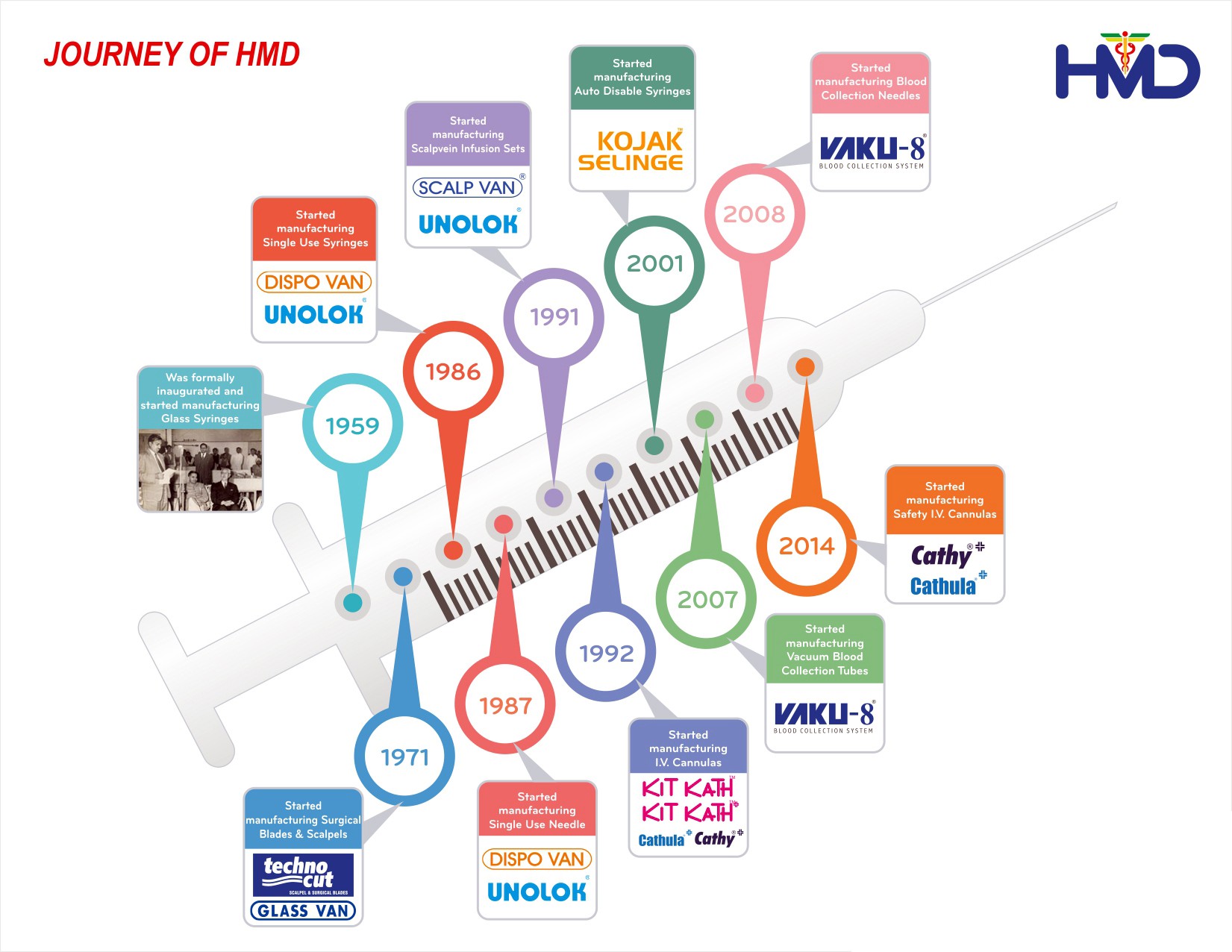 HMD, founded in 1957 and formally inaugurated on 4th Jan. 1959 was created to serve the medical profession with affordable ,world class medical devices. It was the very first Technical Collaboration between a Japanese Corporation and an Indian MSME to produce glass syringes.
HMD is the first company in the world to launch a comprehensive range of sizes of Auto Disable Syringes for curative segment, in the world.
HMD started with manufacturing of Glass Syringes in the year 1959 and subsequently added other products such as Surgical Blades in 1971 , Single Use Syringes in 1986, Single use needle in 1987, Cannula manufacturing in 1989, Scalpvein Infusion Sets in 1991, I.V Cannulas in 1992 , Auto Disable Syringes in 2001 , Vacuum Blood Collection Tubes in 2007, Blood Collection Needles in 2008 and safety I.V Cannulas in 2014 to it's product range.
To cater to its commitment effectively of providing Safe Injections, few years back HMD wasted no time in coming-up with State-of-the-Art manufacturing facility, specifically for manufacturing K1 Design Auto Disable Syringes, for which HMD  technologically collaborated with M/s.Star Syringe UK.
HMD has always been at the fore front in serving the medical fraternity by regularly adding new products to its product range. HMD has collaboration with M/s.Ester Technology, Israel and launched Vaku-8 brand of Evacuated Blood Collection Tubes and Blood Collection Needles, which are fast getting acceptance & support of the medical fraternity.
HMD recently signed an Agreement with Swedish Medical Technology Company, where Vigmed grants HMD the right to utilize Vigmed patents on non integrated Safety I.V.Catheters and market these products under HMD's brand in a selected markets.
The new plant is spread on an area of 5.5 acres and will have the capacity to initially produce 36 million units of 'safety IV cannula' to meet the rising export demand to Europe which is expected to be around over 50% and balance for domestic demand for its new revolutionary technology, designed to present needle-stick injuries which is very common among health workers and nursing staff.
With the advent of new year, HMD reiterates its' global vision and long term goal of becoming 'Top5' in each of its business segments & building a unique competitive advantage in key businesses.