WORLD-CLASS MANUFACTURERS OF CUTTING-EDGE MEDICAL DEVICES

Top Manufacturer of Medical Instruments Devices in India
Established in 1957, Hindustan Syringes & Medical Devices Ltd. (HMD) is among India's most promising
medical equipment manufacturers
 Founded by (Late) Mr. Narindra Nath, HMD Ltd. was created with the motive of manufacturing and innovating high-quality, low-cost
medical instruments
for hospitals and healthcare facilities while carving out a niche in the global healthcare industry. This award-winning company specializes in manufacturing a wide variety of medical devices including Single Use Syringes, I.V. Cannulas, Surgical Blades, and Blood Collection Systems, among others.
Our Growth Story Over the Years
Manufacturing glass syringes under the first Indo-Japanese joint venture in India in 1959, we subsequently expanded our product portfolio with Surgical Blades & Scalpels in 1971, Single Use Syringes in 1986, and Scalp-vein Infusion Sets in 1991 among others. Over the decades, we emerged as one of the most reputed medical device manufacturers  with our state-of-the-art manufacturing facilities upstanding quality management system and international technical collaborations. An organization assiduously committed to quality in mass production, we have, over time, developed a stringent system of checks which includes digital vision camera inspection. Presently, we are among the top 5 medical equipment manufacturers in the world, producing over 3 billion injection needles per annum. Our primary markets are India, Europe, U.S.A, Middle East, and secondary markets are South-East Asia and Africa. A robust nationwide network of more than 4500 authorized dealers ensures ready availability and distribution of all our products. We have received several prestigious awards which include the 6th Medgate Today Award, India's most prestigious award in the area of healthcare.
Our Product Portfolio
As 360-degree hospital equipment manufacturers,our product portfolio consists of a vast range of essential medical products designed for optimum efficiency and effectiveness. These include I.V. Cannulas, Hypodermic Needles, Hypodermic Syringes (Single Use Syringes, Insulin Syringes, and Auto-Disable Syringes), Surgical Blades & Scalpels, Blood Collection Systems, and Scalp Vein Sets. In 2018, we launched the high-precision Disposable Pen Needle, designed to make injections less painful while ensuring safety by minimising chances of its reuse. We also manufacture a variety of medical accessories such as alcohol swabs and safety boxes to facilitate and sterile use and for disposing of hazardous medical waste. Already the largest manufacturer of Auto-Disable (AD) syringes in the world, we are currently working to meet half the world's demand for top-quality and affordable surgical blades & scalpels.
Infrastructure & Technology
Hindustan Syringes & Medical Devices Ltd. (HMD) has more than eight fully-integrated plants spread across four sites in the High-Tech Industrial Town of Faridabad, Haryana, India. Equipped with the latest state-of-the-art engineering and design facilities, these plants are designed for developing the latest products as well as existing products with innovative features such as Blood Collection Tubes and non-reusable AD syringes. Operating 310 days, a year, our plants are bolstered by facilities for high-speed assembly and packing. All our products undergo automatic checks through online digital vision inspection systems, ensuring consistent quality in mass production which is rechecked by our skilled human capital. HMD's rock-solid reputation is based, in no small measure, on its commitment to technology and innovation. This is amply illustrated by our technical collaborations with international corporations. Beginning with collaborating with a Japanese firm to produce glass syringes, we subsequently joined forces with U.K.-based M/s. Star Syringe Ltd. to launch AD Syringes (Kojak Selinge) and with ISRAEL company M/s. Estar Technology to bring out the Vaku-8 brand of Evacuated Blood Collection Tubes. Furthermore, we have always invested in buying the best technologies from across the globe – Switzerland, Germany, Denmark, Sweden, Italy and Israel among others. At present, Japanese technology is utilized for manufacturing all types of needles, Italian technology for Scalp Vein Sets, British technology for Surgical Blades & AD Syringes, and Taiwanese technology for Sterilisation process. When it comes to manufacturing products such as cannulas for Single Use, Needle, Syringes, I.V. cannulas through successful vertical integration, Hindustan Syringes & Medical Devices Ltd. (HMD), takes pride in being one of the very few companies in India that doesn't rely on other countries to procure raw materials. We are driven by the objective to promote patient safety, which is why we provide world-class medical instruments to doctors and healthcare workers. As India's top medical device manufacturer, we are playing a pivotal role in combating COVID-19 with the AD Syringe which is being used to administer the coronavirus vaccine.
Company
Overview

From establishing the brand in 1957 to having thrived successfully in the global market, HMD stands out as one of the pioneers in the field of manufacturing Me.....

Our modern healthcare
products

HMD offers a plethora of cutting-edge products ranging from Syringes to I.V Cannulas and Surgical Blades. These advanced modern healthcare produc.....

ABOUT
HMD

Founded in 1957,  HMD is a close-knit family corporation, manufacturing best-in-class medical disposables for a highly demanding global market......

The
Infrastructure

HMD is proud of having eight automated manufacturing plants located in areas of  Sector 25, Sector 59, and Sector 68 in the suburban city of Faridabad.....
Our Offerings
Our advanced modern healthcare products assist medical experts to be more efficient and effective in treating their patients at Hospitals, Operation Theaters, Intensive Care Units, and Home as well.
INFRASTRUCTURE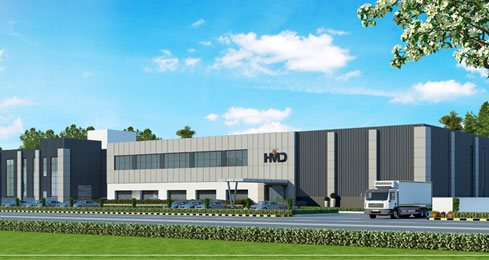 HMD
 is proud of having eight automated manufacturing plants located in areas of  
Sector 25
,
Sector 59
, and Sector 68 in the suburban city of
Faridabad
,
India
. These plants are spread over a total area of  17 acres. The cumulative production capacity of the plant sums up to more than
4.5 Billion Units
of disposables per annum.
HMD VIDEO ADS
Kojak Selinge: Ensures Safety!