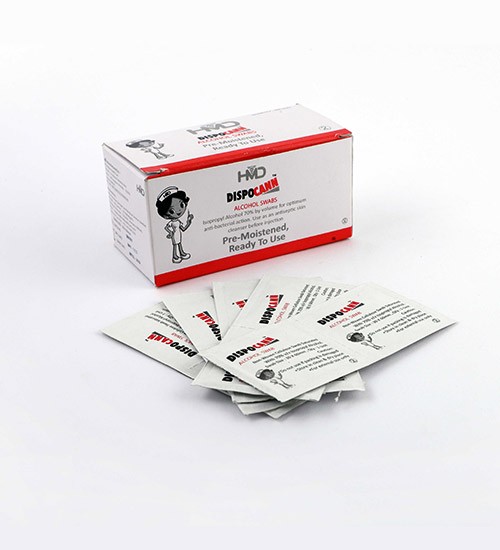 Alcohol swabs, also known as alcohol prep pads or alcohol wipes, are gauze pads soaked with alcohol. They are the go-to antiseptic wipes for cleaning a patch of skin prior to a needle puncture, injection, or minor pre-operation to prevent infections from bacteria. In some cases, it also offers relief from minor wounds. Being antiseptic, medical alcohol swabs prevent the reproduction and growth of microorganisms. They are applied to skin to reduce the possibility of sepsis, infection, or putrefaction. At
HMD
, we offer alcohol swabs under our proprietary brand – Dispocann.
About Dispocann Alcohol Swabs
Saturated with 70% isopropyl alcohol, the isopropyl alcohol swabs are tightly packaged in a multi-layer foil bag, preventing leakage, drying out, or evaporation of alcohol. Isopropyl alcohol is entirely safe to use and is available in everyday products such as disinfectant sprays or hand sanitisers. The isopropyl swabs are made of soft, thick, medical-grade non-woven cellulose. Cellulose entangles the fibres to create a soft, firm, and conforming product. Our alcohol swabs are helpful when you don't have access to soap or clean water. In addition, our alcohol swabs are more convenient as opposed to using a bottle of antiseptic and cotton. We package our rubbing alcohol swabs in small individual packets, which can be conveniently kept in a car, first-aid kit, or any other place.
Why HMD?
One of the leading names in the healthcare industry, HMD aims to provide innovative products that ensure the safety of the patients as well as the healthcare workers. We at HMD aim to provide quality healthcare products at an affordable price. In an initiative to provide top-notch products to the healthcare industry, we have come up with a number of cutting-edge products such as alcohol swabs,
auto-disable syringes
, 3-way stop cock and
safety needles
with Sharp Injury Prevention feature to ensure we do our bit to provide quality healthcare to people around the world.
Key Highlights
Ready-to-use, and comes pre-moistened
Size: 30X60 mm
It helps disinfect the skin and other surfaces from harmful bacteria and pathogens
Made of non-woven cellulose, which creates a soft and strong product
Contains 70% v/v isopropyl alcohol for proper disinfection