What is a Dispoway 3-Way Stopcock and How to Use it?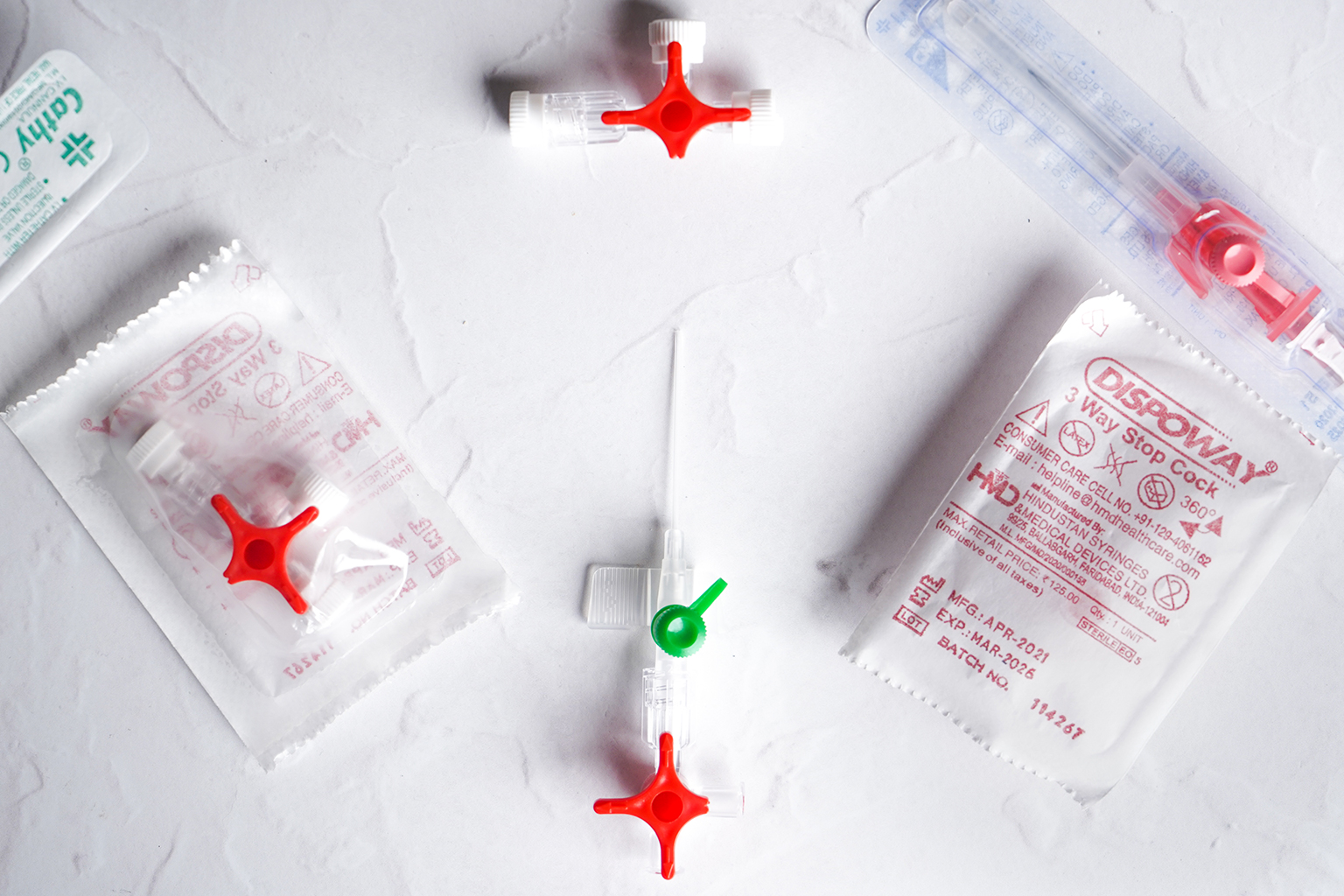 Continuous blood transfusions are the mainstay in the healthcare business. But sometimes, a patient may need a constant supply of two or more medications simultaneously. To take care of this problem, stopcocks were introduced.
These devices allow simultaneous delivery of two fluids or more through a single I.V. cannula. These devices are available in different variants; however, the most popular is the three-way stopcock, which allows a simultaneous administration of two fluids.
HMD, a pioneer in medical devices, has significantly improved upon the 3-way stopcock formula with their Dispoway 3-way Stopcocks. Manufactured using top-of-the-line materials, HMD's stopcocks offer a durable, high-quality, and affordable alternative to the other stopcocks in the market. 
What is Dispoway 3-Way Stopcock?
Dispoway 3-way Stopcocks has two female, and one male port, all equipped with Luer locks to ensure a leak-proof operation. The I.V. Cannula goes into the male port, while the delivery lines are connected to the female ports.
Traditional 3-way stopcocks also have a valve to control the opening and closing of the specific ports. HMD has made some improvements to the valve. As opposed to the valves of traditional stopcocks, which could only be used to completely open or shut a port, the valve on HMD's Dispoway 3-Way stopcock has steps, which allow you to control the flow from each port. This feature is beneficial when you have two fluids of varying viscosity and density.
Here are some of its other useful features:
Lipid Resistance
Lipids and other volatile solutions can cause micro-cracks in the stopcock, compromising its medical integrity. However, Dispoway 3-way stopcocks are manufactured using lipid-resistant materials, thereby guaranteeing unrelenting durability.
Leak-Proof and Secure Fit
Luer Locks on every port doesn't only guarantee leak resistance but also a secure fit.
Transparent Flow Channel
The transparent flow channel allows you to inspect if the medication is being delivered correctly, and identify the problem if it's not.
How to Use the Dispoway 3-Way Stopcock?
Here's a step-by-step method to use a Dispoway 3-way Stopcock:
Step 1: Remove the stopcock from the packaging.
Step 2: Check the position of the valve and adjust it if it's not in a close position.
Step 3: Connect one or two I.V. lines (as per requirement) to the female ports.
Step 4: Remove the cap from the male port and hold it upright. Then connect the I.V. cannula to it
Step 5: Rotate tap to open position to diffuse any air.
Step 6: Adjust the flow of fluids by rotating the valve.
Step 7: Once it's used, dispose of the stopcock safely.
Things to Keep In Mind about Dispoway 3-Way Stopcock
Here are some things you should know about Dispoway 3-Way Stopcock:
Reusing the stopcock may lead to cross-contamination
Avoid exposing the stopcock to corrosive/acidic fumes
Store the stopcock in a dry and clean place
Only qualified medical professionals must handle this product
The stopcock is made of polypropylene, polycarbonate, and polyethylene. So, it must not be used on a patient who is hypersensitive to these materials
The shelf life of Dispoway 3-Way Stopcock is five years
Conclusion
HMD, a leading name in the healthcare industry, has always strived to design products that keep the patients as well the healthcare workers safe. The 3-Way Stopcock has also been designed with some modified features, which makes it durable and high-quality. To know more about Dispoway, visit us.