Hypodermic needles are staple medical devices used by healthcare professionals. Every day billions of hypodermic needles are used to deliver medications. This extensive use puts healthcare professionals in direct line of fire with infections. How? Through needle stick injuries(NSIs).
According to 2019 research, the prevalence of NSIs among healthcare workers in India is between 57% and 73% and that's just the official number. In fact, approximately 54% of NSIs are reported because of using hypodermic needle.  Many instances of NSIs go unreported, making it a way more serious problem than it appears. To shield frontline healthcare workers from the dangers of NSIs, we at HMD have pioneered a new brand of safety needle for injections – Dispojekt Needles.
About Dispojekt SIP
Our Dispojekt safety needles come with a dedicated Sharps Injury Prevention shield, which significantly reduces the chances of accidental needle sticks. All you have to do is pull the hinge-based shield back, use it, and push the cover back, using a single hand. The transparent shield ensures that your fingertips don't come in contact with the needle.
The best thing about our safety needles is that they don't require you to change your injection technique to use them. Moreover, we make sure to use the highest quality raw materials by manufacturing cannulas in house through virtual integration to ensure superior quality of needle.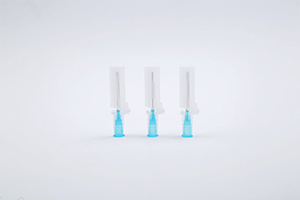 Features of Dispojekt Sharps Injury Prevention Needles
Cross-contamination is a grave issue that plagues the healthcare industry. The problem generally stems from reusing medical equipment like needles and syringes. That's why our range of Dispojekt SIP come with a unique locking mechanism as well. After use, healthcare workers can push the Dispojekt SIP shield back  by pressing it against a flat surface. A clear click sound indicates that the needle cover is locked. After that, you can dispose of the needle in a dedicated sharps disposal box. This mechanism also prevents accidental needle stick injuries during disposal and transport.
Here are some other salient features of our Dispojekt K4 Sterile single-use Safety Needle:
Easy-to-use
Transparent safety mechanism compatible with Single-handed use
Siliconised needle to reduce penetrations and gliding force
Sharp, three-bevelled needle to minimise patient discomfort
Available in thin wall regular bevel
Available in 22G and 23G  Gauge size
Luer mount safety needle
Colour-coded according to ISO 6009 standards
Our K4 safety needles are separately packed and delivered in peel-able thermoform blister packs and packed in medical grade high quality paper.
Why HMD?
HMD is renowned for providing top-notch medical devices for the global market with Dispojekt SIP being the latest addition to the list of products. Our innovative products, such as the sterile safety needles, keep healthcare workers and patients safe by preventing reuse. At HMD, we also strictly adhere to all the international standards to ensure the safety of patients as well as healthcare workers. We pay special attention to the manufacturing process and raw materials used to ensure that we manufacture cutting-edge products that also meet all the quality standards.
Contact us today to know more about our sterile safety needles.