Technocut Scalpels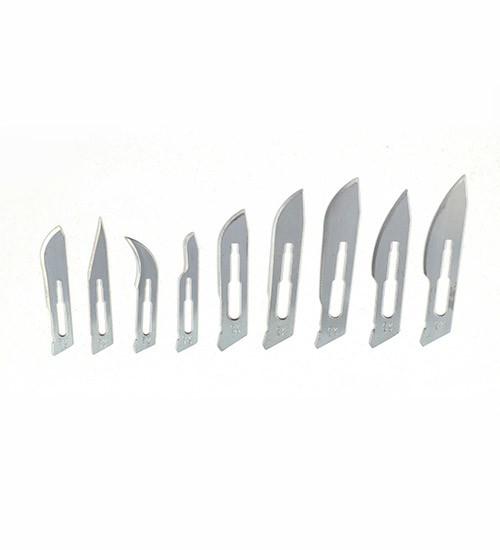 A surgical blade, also known as a scalpels, is an extremely sharp, compact tool resembling a knife used by surgeons to perform incisions during surgery.
HMD
, being one of the leading names in the medical equipment industry, offer surgical blades that have been designed to precision. We are an ISO-compliant manufacturer and supplier of precision-made scalpels. We offer scalpels under two brands- Glass Van and Techno Cut. The Glass Van scalpels, available in different sizes, come with a range of features, have exceptional quality and reliable accuracy. To ensure the safety of the users, our Glass Van surgical are disposable, designed to be discarded after use. Due to the single-use nature of the disposable scalpels, you won't have to deal with blunt, dull blades, eliminating the possibility of imprecise cuts as well as mitigating the risk of cross-contamination. Moreover, our scalpels are sterile and can be used immediately after opening. The surgical scalpels are individually packed in VCI Coated Paper lining in Aluminium Foil and Gamma Radiation Sterilized. In addition, the scalpels have also been designed with Edge Retention capabilities. Our scalpels are cut from the highest-quality raw material - high carbon steel - to ensure precise clean cuts, reducing scarring and further injury to the tissue.
Salient Features of Glass Van Scalpel
Here are some of the salient features of our Glass Van Scalpel
Ergonomically designed with edge-retention capabilities
In line with ISO: 7740 standards
Individually packaged scalpels in an easy-peel aluminium pack
Gamma-sterilized scalpels, with radiation intensity up to 2.5 Mrad, offering sterility assurance level of 106
Thin plastic sheath to protect the edge
VCI coated paper for additional protection
Available in 10,11,12,15, 20,21, 22, 23, 24, 25 sizes,
Ideal for a wide variety of applications
CE Marked according to Medical Device Directive (93/42/EEC)
Resistant to rust and corrosion
We at HMD also provide highly ergonomic surgical blade handles to provide you with unmatched dexterity while operating. The feel and precision of scalpels translate to unparalleled confidence during operations. Moreover, all our scalpels are sterilised using ethylene dioxide, conforming to utmost industry hygiene standards. Also, ISO -11607 compliant medical grade paper and easy-peel blister pack guarantee uncompromised medical standards and ease of use. With distribution chains across developed and developing markets, our top-of-the-shelf products are exclusively positioned as the brand of choice among healthcare professionals. Get in touch with HMD today and check out our range of products and price listings. From choosing the right products to timely delivery, we ensure that you provide the best patient care.